Top Fastest Smartphones 2016 – Which phones made the list?
Here we bring you a list of the mobile phones that got a real powerful and fast performance processor. And on this list, it might not be what you expect, some devices will surprisingly not be at the top fastest – your favorite phone brands ain't the fastest.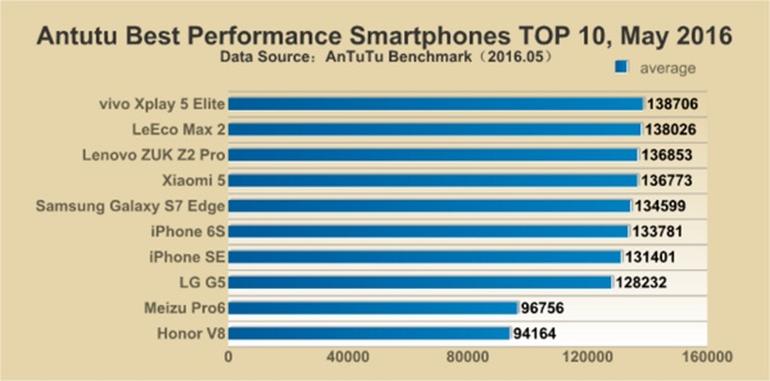 One of the most popular mobile benchmarks, Antutu, has released a list of the top fastest smartphones in May 2016, with the top four being from Chinese companies. With both Samsung and Apple being outclassed in this aspect by these companies.
The top three fastest smartphones – Vivo XPlay 5 Elite, LeEco Max 2, Lenovo ZUK Z2 Pro, all have a super 6 GB of RAM and a Snapdragon 820 processor. The RAM isn't just the ideal number to look at when talking about the speed of a device, even the Samsung Galaxy S7 edge (4GB), iPhone 6S (2GB), and iPhone SE (2GB), all have way lesser RAM value than the top winners in this list but yet still rank fifth,sixth and seventh position respectively.
Vivo XPlay 5 Elite – 138706pts
LeEco Max 2 – 138026pts
Lenovo ZUK Z2 Pro – 136853pts
Xiaomi 5 – 136773pts
Samsung Galaxy S7 edge – 134599pts
iPhone 6S – 133781pts
iPhone SE – 131401pts
LG G5 – 128232pts
Meizu Pro 6 – 96756pts
Honor V8 – 96764pts
Any real competition as the fastest mobile phone of the year dropped as from eighth place – LGG5, with the remaining two not coming in as strong.
Now if you're looking for a mobile device that will please you with a beautiful amount of speed, you know the smartphones to opt for.
Source: Zdnet